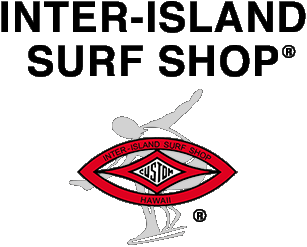 About Inter-Island Surf Shop


INTER-ISLAND SURF SHOP® commissions and sells collectable, hand shaped and laminated surfboards from shapers such as Sparky, Jim Philips, Eric Maurus and others. Building on a legacy of 50 years of surfboard design and development, Inter-Island seeks to connect discriminating surfers with surfboards that represent the ultimate in the craft of surfboard building. Whether purchased for collections or for surfing, the owners of these boards honor and continue that legacy.
We offer the best quality t-shirts with the original logo and much more. Please check our online store
INTER-ISLAND SURF SHOP® was in operation in the Territory of Hawaii, Island of Oahu during the late 50's and opened at 620 Kakaako Street in Honolulu (by the old ironworks) in 1960.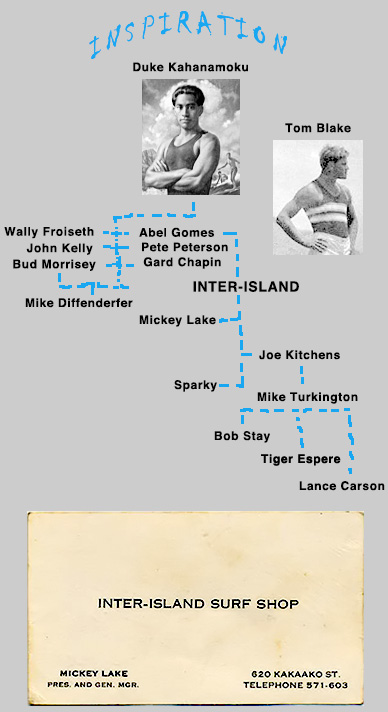 Key figures in the development of
INTER-ISLAND SURF SHOP® were:
Mickey Lake
--owner, manager, and shaper
Joe Kuala
(aka: Joe Kitchens)--first employee, shaper and glasser
Sparky
--

shaper


(who developed concave nose designs and the first solid fiberglass surfboard fins, the first modern speed fin, the textured deck, and light glassing. He also named the surf spot known as "Big Rights" and initiated the environmental group "Save Our Surf")
John Kelly, Jr.
--shaper
(who developed the "Hydro" surfboard), author, and community activist.
Many young Honolulu locals worked or surfed for
INTER-ISLAND SURF SHOP
®
Kenny (Bones) Johnston, Conrad Canha, Rodney Gerard, Herbert Chun, John R. K. Clark, Frances Aiona, David Nuuhiwa, Raymond Patterson, Eric Parker, Jack Eberly, Manong, Harry Sonoda, Roland Sonoda, Fred Hemmings, Barry Kanaiaupuni, Kenny Tilton, Boots Mathews, Ben Aipa, Jack Shipley, Chris Green, Jim Philips,
and more...
INTER-ISLAND SUMMARY
(then and now)
OWNERS:
Mickey Lake
Barry Morrison...current
FACTORIES:
Honolulu, Hawaii (620 Kaka'ako St.)
Honolulu, Hawaii (website)
MODELS:
Sparky Nose Concave
John Kelly Hydroplane
Butch Van Artsdalen
BLANKS:
Walker
Clark
US Blanks...current
STRINGERS:
Redwood, balsa, T-band or multi-stringer
SHAPERS:
Mickey Lake
Joe Kuala (aka: Joe Kitchens)
Sparky
Mike Diffenderfer
Dick Brewer
All use Skill planers
SHAPES:
Hot dog, concaves, guns, semi guns
LOGOS:
Inter-Island Surf Shop - Custom - Hawaii
GLASSING:
Double 10 oz. deck and bottom plus knee patch
Double 6 oz. deck, single 6oz bottom...current
FINS:
Solid, wood, laminated, or glass