by Barry Morrison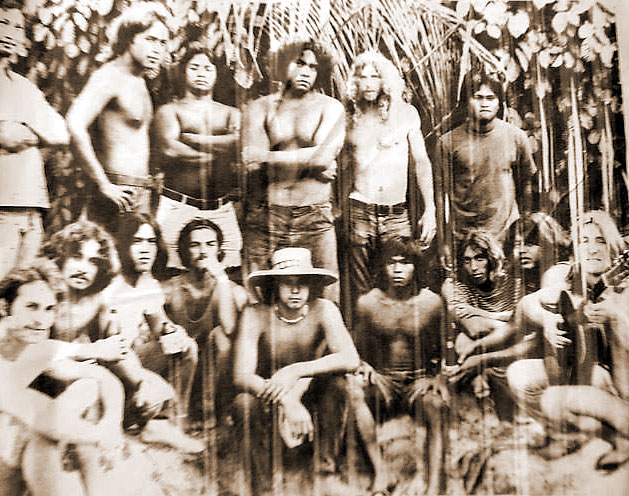 Ewa Beach begins at the West bank of Pearl Harbor which is a military housing area called Iroquois Point. Fortified during WWII the reef was planted with railroad ties and strung with barbed wire. These obstacles, without the wire, were surfed thru, around, and into occasionally for massive dings. Known as Tank Traps during the sixties and surfed by military brats on glassy days with two to four foot waves. Tradewinds or East winds chop this area up. The iron has been removed by the military. Access is limited to those with military IDs.
Across the harbor is Hickam Air Force Base and outside surf spots. Back across the harbor and further down this nice sandy shoreline is Marine Beach, which is right next to and in front of a military rifle range. Time to paddle in when the popping starts.
Leaving the military behind we come to Ewa Beach Park. A long paddle out to a sandbar with glassy conditions will give you waves that are bigger than you thought. Rights and lefts, two to four feet, fast and fun.
The Ewa Beach coast is at the same angle as the Diamond Head to Aina Haina coast and will take the same swells. Southeast, South, Southwest, and even big West wraps during winter, push along this long coastline. North winds are ideal but glassy water is a blast. The water is seldom clear due to the current sweeping the bottom from Pearl Harbor flowing West to Barbers Point. A lot of seaweed (limu) is found in this area, harvested by hand, certain varieties are local favorites for kau kau.
Turning off Ft. Weaver Rd. to Ewa Beach Rd. and driving half way down it there is a public right of way to the beach. This takes you to Empty Lot (Lots). No more empty lots anywhere now days. A surprisingly good spot, primarily a right with lefts, with long rides thru sections and doubleups. Johnny Stadowski, Makaha International junior champ came from this spot. Herbert Pruse would hang ten, turn around and hang heels, then walk straight to the tail to turn around and do a cut back. Super smooth on his John Kelly Jr. Inter-Island Surf Shop Hydro. 1965.
Off Pupu St. is Dud's Reef, a backyard surf spot that requires a leash due to the jagged rocks that the surf slams in to. Fun at one to three feet, a good imagination helps the ride. Home to an occasional beer drinking surf contest, invitation only.
At Pupu Place you can check out the area known as Shark Country. A big left that can hold a ten foot wave peels outside a rock point into a small bay. Murky water and stories of hits and misses by the men in grey keep you wary. But, hey, we came to surf! Good fun at two to four feet you can have long rides with plenty turns and cutbacks. Ewa Beach offers surf spots with really long stand up experience, which is quite refreshing compared to some quick bowl action spots. Let's see, how did Shark Country get its name? Early morning sessions with four foot glassy waves make you a believer.
Haubush is right next door and can connect with Shark Country when big. A left, with rights, many locals started surfing right here, even yours truly. One to three feet and rides to the small beach. Good fishing too!
At the end of Papipi St. is the road to a public beach park that is littered with every kind of household appliance, car parts and whatever, a shame. Next to the not so safe park is Sandtracks. At two to four feet this is a spot to work the rights. Not always friendly, get a few waves and perhaps move on. Newcomers cars left unattended are subject to random inspection by the hungry. Outside reefs along this area will reveal good surf on really big days. Wind is the factor that makes it worthwhile to paddle out or not. Of course, there is nothing quite like being way, way outside in big choppy surf just to give oneself a test.
Fourwheeling from Sandtracks up the shoreline towards Barbers Point for surfing and fishing is fun to do. The Keawe tree (Mesquite) forest comes right up to the car path along the beach. The thorns from this tree will break off in your rubber slippers and surprise you later. You will swear they are coated with a hurtful potion. Great firewood.
Passing a small point with a WWII concrete bunker on it we find The Cove. A nifty little left with bowls and sections. A little tide helps out. Rocky shoreline. Fun and usually not crowded.
The next thousand yards of coastline is classic Ewa Beach. No one around except a few fisherman and maybe a surfer or two riding simple little close out doubleups. Looking at Diamond Head from here lets you see just how big the crater actually is. Sunrise and moonrise, this is a tranquil spot.
The military lets you know you have approached their territory with a ten foot high steel fence that goes out across the sand in to the water. Welcome to Barbers Point Officers Beach (old name). Now it is White Plains Beach and the military has surrendered the property to the State of Hawaii and it is open to the public. Previously, the Barbers Point Naval Air Station, and still home to a Coast Guard unit at the end of Nimitz Beach, the area has assumed its ancient name of Kalaeloa. Access is thru two gates, the Makakilo main gate off the freeway and the other in Ewa Beach at the end of Geiger Rd. But us guys like da back road an we go paddle roun da fence to surf. The parking lot at White Plains Beach is large and gets filled to capacity. This is a family beach if there ever was one. Simple parking, beach pavilions, barbeque pits, shade trees, a bandstand, bath houses, snackbar, and outside showers. The surf rolls in with rights and lefts that doubleup over and over again providing the occasional hundred yard ride or more to the beach. The bottom is sandy with flat rock. Two to three feet is about it for this area but the outside reef can handle much larger surf if you want to paddle out for it. Just like all of Ewa Beach, glassy is great and North winds are better, but side chop is the norm. Standing on the beach and looking outside to the right is Tankers. A thousand yard paddle rewards you with an exceptionally explosive wave that is a smoker of a right at four to six feet. It's there if you want it. Big grey things roam.From the fence line one can walk for several miles on beautiful beach that has been litter free under the military but now the litter is being sprinkled here and there by the carefree public, auwe!
Winding along the shoreline road, past permitted campsites we break out of the Keawe trees to the road next to the airstrip. Following this we arrive at Nimitz Beach (Enlisted Mens Beach in the old days). This is an outside break that sections and closes out. It can be good, but you have to catch it just right.
Just beyond Nimitz Beach the Coast Guard has a presence mauka of the beach. Oceanside of this is a treeless beach area with a jetty on the right. Swabbyland is straight out a good thousand yards. What a spot. Good from four to twelve feet with thick juicy rights, this spot requires your attention. Getting caught inside is very memorable. Very similar to a big wave spot at Diamond Head named Browns with a touch of Laniakea and there you have it. An interesting aspect to this spot is when you are forced to prone out and you're rocketing toward shore the whitewater backs off very quickly as you pass over a trench and one is left skittering over deep water. Cool! Swabbyland is no secret and can get crowded. Too many surfers everywhere. You know what a swabby is, right..just a Navy enlisted man at's all. It will be interesting to see how the State of Hawaii will manage this newly acquired land. Keep it clean folks. This is the end of the road for Barbers Point. Beyond is yet another great fence, and, on the other side, Campbell Industrial Park.
A freeway exit to Campbell Industrial Park is coming up. We go. Past the depressing concrete and metal warehouses lies the Southwestern tip of Oahu and the glorious West side begins. Not surprising at all the name of the surf spot is Campbell's. It is actually a fairly wide area with different spots showing when the surf height changes. Access to the water is over a coral shelf that is not really user friendly when the surf is big. Once you have determined your launching point and jump in, (hoping your leash won't snag on rock) all is well. A hollow left with a shifting peak is straight ahead. Three to four feet is good. A big right just West of this left can handle ten feet but it gets spooky. In the early seventies a helicopter survey of shark population was conducted and this area had more sharks than they could count. Perhaps this was a phenomenon of the time. Nevertheless keep your eyes open. Trade winds blow straight offshore and North winds are good too, except they carry some odors from the industrial plants. No worry, no mutants running around.
The industrial zone ends at the Barbers Point Deep Draft Harbor (Malakole Harbor) Big West and Northwest swells have impact on either side of the harbor mouth.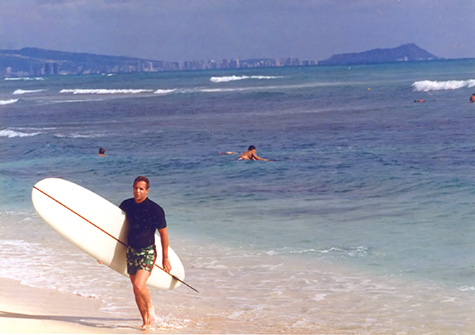 All surf spots explored will be named as we move further West.
The Ko'Olina Resort is west of the deep draft harbor and has outside waves for the brave. Access is thru public right of way to the ocean with free parking provided on a side lot of the hotel. The hotel is luxurious but has a fair priced bar. An aquatic attraction is the shallow shark pond with small black tips cruising along. Now where did they find those specimens? The swimming lagoons have heavy duty black nets across the openings in the break wall where ocean water flows thru. How come?
Down the road and around the bend across from the Kahe Point Electric plant is a spot known as Tracks. Old railroad tracks from the sugar mill days still remain but are unused. The surf breaks very close to shore in shallow water with a fairly flat reef. Hollow, crispy, fast waves peel left and right in the two to three foot range. The bigger it gets, the more hairy it gets as a standup wall gives you time for a few snappy moves before an exit and a close out. At two to three feet you can be in the line up in minutes. Prevailing trade winds keep this place pretty. Park where you can see your car get broken in to.
Entering Nanakuli there is Hawaiian Homestead Land on the ocean. In this neighborhood is a local spot called Keaulana's. A fun right at two to four feet. A very beautiful setting in a small bay with comfortable old houses full of Hawaiians that surf. Howzit Gannigan!
Moving on.
Maili Point is a summer and winter break with much to offer. Primarily a long left that can go ten to twelve feet and bigger. Summer South swells show their stuff the biggest here. More big than town. Short rights are available with the correct swell direction and tide. Shortboard and longboard can be tested as well as your leash. If your leash breaks here you will be swimming a long time. Surfer Magazine ran a photo in the sixties of graffiti painted on the block wall at the point that said "If you don't live here, don't surf here." Plain enough for regular folk. Winter time provides much more consistent surf than winter and is good in the four to eight foot range. Not for beginners.
Up the road.
Maili Break wall (Green Lanterns) is famous for the huge waves that feather and break super far out in the blue water. Known as Maili Cloudbreak it is beautiful to watch even if no one is riding. On the inside, waves wrap around a small point and present a straight wall that's moving fast to the right. It is a bit difficult to paddle out thru continuous whitewater but you can do it. This spot was a bummer before leashes because of the rock point and the break wall. One should not push your luck here even with the convenience of a medical clinic across the street. The outside can be ridden from fifteen to twenty feet and bigger. Are you ready?
A few hundred feet up the road is Sewers. An aromatic surf spot across from, you guessed it, a wastewater treatment plant. So many surfing areas have come to life thanks to the leash. Borrowing your pals board and riding here without a leash could bring an end to a friendship. A beautiful wave that smokes right or left is just a short distance off the ledge. Three to six feet and your grooving or would like to groove if there was room at this tight little spot. A strong Northwest makes the rights open up at six feet.
At the far end of Waianae town is Army Street. Turn here and park outside the gates of this military reservation. Limited parking available with military ID. Say hello to the guard and walk on thru to this oasis. Known as Rest Camp due to the many bungalows and recreational facilities. Looking out from the shower area near the steps down to the beach you behold the Pokai Bay and surf pouring in. When Makaha is six to ten feet and up this area gets a strong push but half the size. You can see the sets coming from this side of the horizon. A long right slide with a left that shoots toward a raised shelf. Crowded real fast with good local surfers and some novice military guys checking out the real Hawaii.
Up the road a bit you will see a small mountain that is ocean side of Farrington Hwy. This is Lahilahi Point. An apartment building comes in to view quickly so get ready to pull over and park. The surf spot is not visible from the road nor is this good sized bay with a wide beach. Looking toward the point the set up is evident, lefts wrap and push to the beach. South swells find a home here. The middle of the bay takes the West and Northwest swells, with shifting peaks. This place can handle big waves.
Pulling up to Makaha Beach we see outside on the Waianae side of the bay a big thick left with no one out. Welcome to Klausmeyers, somewhat treacherous and unforgiving, getting caught inside is the norm. Expect to take gas at any size.
Looking over to Makaha is a different story, it's packed. Enter the water with a lot of respect for the power of this place. The water is thick and your board feels very small on bigger days, like it won't paddle fast enough to run away from the monster set that's moving in. Surfers, bodyboarders, canoes, tandem riders, they're all here. Much credit to the lifeguards that oversee the action. Best to get here at dawn before the neighborhood arrives. At three to six feet it is the most crowded because it is so much fun. The character of the wave changes as it gets bigger, ask Greg Noll about the winter of 1969. Was it thirty feet or was it forty? Ask Buffalo Keaulana and family for the total recall of surfing history here. George Downing, Wally Froiseth, and Joey Cabell may have something to say also. The Makaha International Surf Meet was a big venue here in the sixties. Collect the money, send them out, no matter the size or conditions, and enjoy the swim. It was a fantastic surfing exhibition with worldwide talent on view for all of us. Hero's have confirmed their worth at Makaha. Of interest is the fact that when Waimea Bay is twenty five feet with sixty guys in the water Makaha may be as big with a handful out. Brian Keaulana, udabest. Why don't the big wave riders of the North shore ride huge Makaha? Not enough cameras? The drive too far? How about a two hundred yard long twenty foot wave. I think I'll go buy groceries instead. Rell Sunn is gone, but not her spirit. What a babe, she could out surf most men, anywhere. Surfboards Makaha is alive and well with Jay Richardson and son at the helm.
Just past the residential area at the point we come to Kea'au Beach Park(Free Hawaii). Pull right in and there it is, a left break on a big South swell in front of a ledge that peels into a little inlet. A serious wave that works well in the four to five foot range. Make sure your leash has no cracks or stress, these rocks are unforgiving. Northwest swells during winter will entertain you with eight foot waves.
The Ranch is a roadside stop just ahead. A Northwest swell direction will let the wave open up for a longer ride. Pray For Sex Beach is at hand, bring a friend and bodysurf. Down the way and far outside the Makua Cave when it is fifteen to twenty feet you will find Brian Keaulana and his tow in crew taking on the challenge of a very fast breaking wall. The ultimate breakfast club.
Yokohama, dead ahead. It gets blazing hot out here, nice to have a cooler along to help out. This spot catches a South swell too. The takeoff is awesome as it jacks up from deep water, hits a flat shelf and grinds down the beach. A left peak, very intense and thick. Good for home movies of your friends eating it. Can take ten foot waves, easy.
Third Dip is next. A spot perfected by Johnny Boy Gomes and others with their intense commitment, drive, and no scared of nothing approach. Yikes, take my wave too. Great area to just watch the show when the braddahs are rippin. Watch the tide, swell direction, and if the swell is increasing or not. These factors will impact your day. Four to six feet is a lot to handle here. P.S. if the fishermen are there first, tough luck, baited hooks on long lines have been cast. Do you think they will stop what they are doing so you can surf? Goodbye.
The road continues to Kaena Point. Protected from car travel (for environmental issues) you can see this is where the West side of Oahu meets the North. Tremendous surf, strong currents, and deep water have some of the new breed of tow in surfers approaching this zone. More power to you. Don't forget your harpoon to fend off a territorial beast. A walking tour of the point lets you feel the energy of this desolate area. Do not leave surfboards in or on car. As with the whole West side, the mountains are close, dry, and beautiful.
aloha,
Barry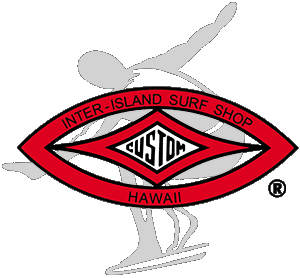 EHUKAI reported 0-1 ft at 10:00 AM HST.

Wind is VRB 05.

MAKAHA reported 0-1 ft at 10:00 AM HST.

Wind is VRB 05-10.

MAKAPUU reported 2-3 ft at 10:00 AM HST.

Wind is E 05-10.

SANDY BEACH reported 2-3 ft at 10:00 AM HST.

Wind is NE 05-10. SHORE BREAK

WAIKIKI reported 0-1 ft at 10:00 AM HST.

Wind is ENE 05-10. CANOES

SUNSET reported 1-2 ft at 9:00 AM HST.

Swell direction from the NNW. Swell period is 15 seconds. Wind is VRB 05.

DIAMOND HEAD reported 2-3+ ft at 7:00 AM HST.

Swell direction from the SSE. Swell period is 10 seconds. Wind is NE 05-10.

Surf Forecast for Oahu

NOTE: Please check with local authorities regarding beach closures. Surf along north facing shores will be 3 to 5 feet today, lowering to 1 to 3 feet Friday. Surf along east facing shores will be 2 to 4 feet through Friday. Surf along south facing shores will be 2 to 4 feet today, rising to […]

Oahu Surf Hazards

No high surf advisory or warnings.