Marion M. Kelly
June 4, 1919 - November 12, 2011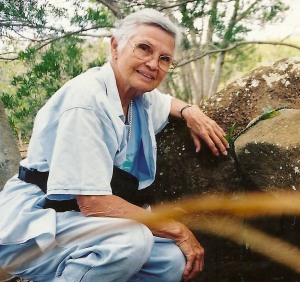 Marion Kelly left a lasting legacy by giving life and meaning to ancient Hawaiian "archeological sites." She revealed vivid representations of productive and innovative people and a vibrant, living culture that sustained over a million people for hundreds of generations. She pioneered the discovery of complex interdependent field systems, including how lo'i and fishponds were connected and how people were connected to them.
She re-wrote history by exposing the colonial missionaries' motivation behind the "Great Mahele," which was responsible for the loss of land and livelihood for the majority of Kanaka Maoli families. She annihilated the western version of Hawai'i's history, which depicted Hawaiians as cooperative and complacent with the mercenaries who aggressively and relentlessly pursued land and power.
During her long tenure at the Bishop Museum and throughout her second career teaching at UH Manoa, Professor Kelly documented hundreds of Native Hawaiian sacred and culturally significant sites and wrote numerous reports that stressed the importance of agriculture, aquaculture, and community. She published studies that today remain important resources, such as land tenure, Ka'u, Kona, Kaneohe Bay, Kohala, and Hilo Bay. Her body of work became an important tool to stem exploitation and development, and laid the groundwork for hundreds of Native Hawaiian scholars who followed.
As a tireless social justice activist, Marion was involved in decades of struggles to protect Hawai'i: Chinatown to Kalama Valley, Kaho'olawe, Makua, H-3, Mauna Kea, Northwestern Hawaiian Islands, to name a few.
Marion generously offered her groundbreaking and impeccable science as tools of resistance to protect the land and people of Hawaii. Her deep knowledge helped to shape the future of the Native Hawaiian movement and changed the face of Hawaiian culture forever. Her legacy will continue to live within us all.