Melvin Kanaulu Kinney
October 16, 1954 - February 14, 2012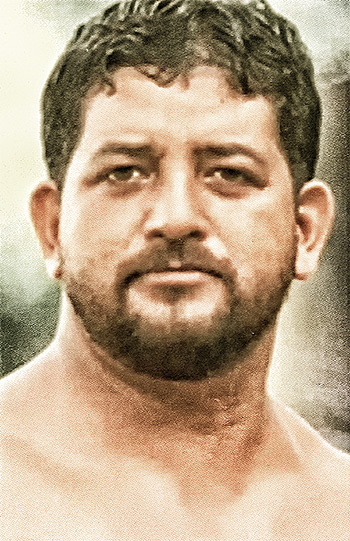 Aloha and good morning. First of all, for those of you who do not know me, my name is Leimana Kinney DaMate and I am the oldest of four. Mel was our youngest brother and on behalf of our father, Rayner Kinney, our brother, Haliimaile and our sister, Rhana-Me Aulike Kinney Matsuoka, and our families, I offer our deepest gratitude and appreciation to all of you for gathering here today to remember our Mel and to celebrate his life.
Melvin Kanaulu Kinney passed into the realm of our Lord on February 14, 2012. We are sure that our mother, Leinani Kinney and our grandmother Hanakaulani Holt, along with the rest of our family who have departed were with him to guide him lovingly into his next adventure.
Mel was an incredibly strong, loving yet humble man who had a core of generosity and integrity. He was very spiritual and closely connected to the ocean. He loved furiously and deeply. He was loyal to a fault and never forgot his family or his friends. In fact, he treated his friends as his 'ohana. That's not to say he wasn't stubborn — we like to think of him as "persistent" and he did have a temper. He persevered in his beliefs and rarely changed his mind. But, if you were one of the few who could convince him that your logic was sound, then he would smile with that twinkle in his eye and say "alright....alright, I see your point! But, do you see mine?" And, all this done with a sense of humor.
Mel had an insatiable curiosity about nature, mankind, and different cultures....everything. He never stopped learning and believed in sharing that knowledge....even with those who did not understand where he was coming from. He just had to know. For example, when he was just a little boy, he saw a bee sitting on a flower. I remember us telling him "Don't touch it Mel, it's going to sting you". But Mel being Mel just smiled and tried to catch that bee by closing the flower petals around it. Well, of course the bee stung him right through the flower. But did that discourage him? No, he kept catching bees, and getting stung, until he understood how a bee worked. (The other part of the story is that we ran to our Uncle Jimmy Kaku's house for help since the stinger was still in his hand. Uncle Jimmy panicked and slapped an onion on the sting to take away the pain. I'll never forget his face when he realized that was his only onion and it was for dinner). Mel walked all the way to Aoki's Store in Waikiki to get him another onion.
So, to understand the man Mel became, you must understand his voyage to get there.
Mel was born in Waimea, Moku O Keawe (Island of Hawaii) in 1954. His early years were spent in a land of Paniolo where the population at the time was only 400 — and everyone knew everyone else. There were no traffic lights, no strangers, and life was hard, but good. The best mode of transportation was by horseback and you were surrounded by the lush forestry and pastures of Paniolo country. And even though our family eventually returned to Waikiki, he never lost his love for the majesty that is Waimea. Thus began his fondness for the mountains and forests.
Every year, when we were young, all of the cousins (and there were many of us) on our mother's side would go to Ho'olehua on Moloka'i to spend the summer. Our grandmother, Agnes Kamai Yuen was the school teacher in Kaunakakai and a gifted artist. Through her, Mel's love of artistry blossomed and he spent much time back on Oahu at the Academy of Arts. He drew throughout his life. He saw beauty and mystery in anything from the ocean and artistry in beach glass. He continued to collect pieces of every beach he ever went to.
But it was in Waikiki that his true passion blossomed. That passion was for the ocean. It was there that he knew he was a waterman. He was never happier then when he was in water, preferably salt. But, he came by that naturally as our family was in Waikiki from before the "visitors" came to Hawaii in 1778. Mel was about five years old when our other grandmother Hanakaulani Holt, affectionately called Nana, taught him to surf in Waikiki. He took to it like he had gills instead of lungs. This then, was his element and he never left it. He told me once that the ocean "called to him, spoke to him, taught him, punished him, and loved him". He never sought to conquer the seas — that was impossible. Rather, he had the deepest respect for the ocean, loved it and lived his life honoring it.
An accomplished musician, Mel played the violin for the Honolulu Youth Symphony Orchestra while in intermediate school. While he was at St. Louis High School, dad bought a baby grand piano and it became Mel's. He loved to play slack key piano. One day dad came home and heard the piano playing. He said he was so stunned, he was quiet and just listened. It was a duet on the piano. When the song was over, the strange "kid" thanked him, introduced himself as Michael McDonald of the Eagles and said he had fun playing with Mel. Because we lived at the base of Diamond Head, many of the popular groups of the time rented the mansions there. They used to go out to Baby Tongs and try to teach themselves how to surf. After watching them wipe out all the time, Mel would tease them and give them pointers. I guess they liked the Hawaiian boy, and invited him to their house to listen to their rehearsals, and Mel — being Mel, invited them to our house to play music with him. He jammed with Cartos Santanna and Jose Feliciano. He never thought of any of them as anything but friends and respected their privacy. Mel loved music so much that he bought a Spanish guitar in Brazil and never stopped playing it.
Mel was well traveled. He went to Europe and visited England, Scotland, Wales, France, Germany and Norway. He spent time in Japan and the Philippines as well as Micronesia. He quietly spent time with the celestial navigator Mau in his home in Satawal, in the Western Carolinian Islands.
But with all of his travels, he never left Hawaii. When Waikiki got too crowded and the rest of us moved back to Moku O Keawe, Mel stayed. He could not leave the ocean here. He had an uncanny feel for when the best waves would come in and where the critical point was. People would often ask him how he knew and he would just say that the ocean spoke to him — he could feel the pulse of the sea. Of course it didn't hurt that he believed, as we all did, that our Nana was with him on every wave, especially the big ones.
Mel's destiny was to be connected to the ocean in all ways. He paddled canoe often, and participated in the Moloka'i Canoe Races where his team often won. He loved canoes—a chance for speed in the water, and the trust that each of the crew members had for each other.
He often talked with Herb Kane, an old family friend about the ancient Hawaiians and the stamina and intellectual and mental strength you needed to voyage across the ocean in a canoe. So when Herb began planning and designing the canoe that would be known as the Hokule'a, Mel would watch fascinated by the intricate knowledge and skill needed to survive a voyage across the Pacific Ocean. It entailed a different kind of trust — one that each of the crew felt for each other because their lives depended their understanding of the elements. It was the greatest thing to ever happen to a Hawaiian waterman — to be able to be a part of the original crew that recreated our ancestor's voyage from Tahiti to Hawaii; to give this knowledge, once thought lost, back to the kanaka maoli.
He had a code of honor that was uniquely his and he refused to veer away from it. That code of honor was instilled in him by our parents and grandparents. Work hard for what you believe in, and stand up for your beliefs — even if it is unpopular. If you are true to yourself, then you can be true to others. Set your goals — whether it is to understand a bee, surf a mountain or voyage through unknown seas. Be prepared for whatever you do — and learn from your failures. Above all, treat others as you would want to be treated. Never stop learning, because learning is survival.
A deeply respected kupuna, born of the sea and genealogically connected to Kahoolawe recently said this about Mel "he is a Kai Moana, Ke Komo'...he has come home...to the sea.
Ahui hou Mel, beloved son, brother, uncle, friend may you forever be one with the ocean you so loved.