Robert "Bobby" Hoapili Mendonca
December 6, 1953 - December 1, 2005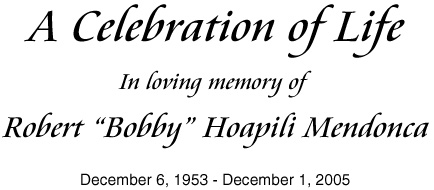 Bob surfed every spot in town and especially enjoyed Kaiko, Publics, Queen's, Ala Moana Bowl, Straight Outs ("Bobbyland") and Kewalo's. He also surfed Homelani's in Mokulā'ia and PCC's in Laiē He encouraged his friends who were surfing with him and pushed them to do their best, making them take off on straight up and down waves, sitting deep with him.
He would sing Hawaiian songs in the line up. Powerfully built with long arms and hands as thick as anyone's foot, he never missed a wave he tried for.
A chef in his own right, he could handle the heat in the kitchen or outside at the grill. A great host, he delighted in making sure everyone was taken care of. He was skilled at playing guitar and harmonica, and had the eye and feel for a good surfboard. He enjoyed an articulate conversation on almost any subject with any one. Direct and clear, you knew where he stood.
He chose to walk a spiritual path. Bob was full of aloha for everyone with aloha. A man who always treated others with respect and courtesy, he was dismayed with the lack of humility he encountered on shore or in the water. And sometimes would let you know it.
His family loved him and he loved his family. His love was so great that he brought people into his family and he loved many friends as much as family. His mother and father, his brothers and sisters, his wife Wanda and daughters Nalei and Kaimana, his nieces and nephews, and other cherished relatives gave his life its real meaning. In Bob's words:
"Family - always and forever!"
Bob,
A manly man
A waterman
A child's man
A family man
A good man
Our man
Ah hui hou.
Tribute written by Barry Morrison