Sri Meheula Shim
December 17, 1956 - January 9, 2016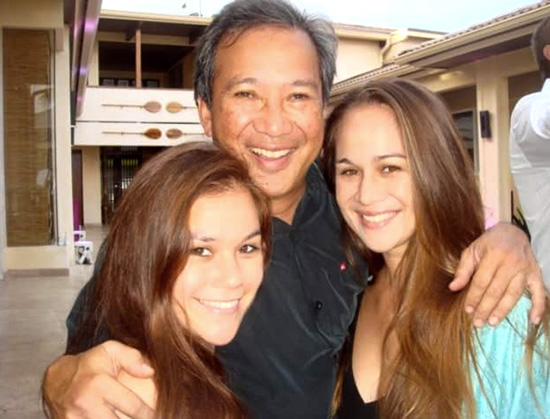 Hundreds gathered Saturday to celebrate the life of Sri Shim, the 59-year-old retired florist and avid waterman who died after he was run over by a boat off Lanikai.
More than 100 people entered the ocean off Magic Island on surfboards, canoes and watercraft. They formed a circle at Shim's regular surf spot — Ala Moana Bowls — where they laid flowers, partook in a blessing and scattered his ashes into the sea.
Another hundred watched from shore.
Paddleboarder Layne Owen, who participated in the farewell ceremony, remembered Shim as a "supergood surfer."
"I'm going to think about him a lot," he said. "I miss him."
Pono Shim, Shim's younger brother, said Saturday that the family was focusing on celebrating Shim's life.
"His death, it's horrifying," Pono said. But the hundreds who stopped by showed the family "how many people he loved."
"He didn't talk about it," Pono said. "He just shared his aloha with everybody."
He said Shim was so cheerful he could bring smiles to the lineup at Bowls, where surfers are usually stoic in their fierce competition for waves.
"Pretty soon everyone was having a good time," he said. "That's what my brother did everywhere. He gave everything he had all the time to everyone."
Shim was killed Jan. 9 when he and his 25-year-old stepson, Trey Albrecht, were run over by a boat while free-diving off Lanikai Beach.
After the incident, a state Department of Land and Natural Resources official told reporters that divers are supposed to put up flags before they submerge. A diver's flag was found in the general vicinity of the accident but was later determined to belong to another person diving in the area, fire officials said.
The DLNR also reminded boaters that vessels must slow to a "no-wake" speed when they are within 200 feet of a diver's flag and cannot approach within 100 feet of flags, unless the vehicle is being used for underwater activities.
Fire officials said the two men were diving at about 1 p.m. when the incident occurred.
Shim's body was recovered about two hours later, about 200 feet away from his kayak, which was found about 600 feet offshore. The Honolulu Medical Examiner's Office said he died of "blunt force and propeller injury," and ruled the death an accident.
Albrecht, who was at the ceremony Saturday, underwent surgery and is recovering.
DLNR's Division of Conservation and Resources Enforcement is investigating the incident but has declined to give specifics of the incident.
But some Kailua regulars say they have seen the same boat speeding in the area before.
"It's an orange boat," said Bryan Amona, co-owner of Kuau Rescue, a water rescue training company. "It speeds up and down on our space over there. It's known for speeding. It's known for behavior unbecoming to other surfers in the water."
Amona said he didn't know who was driving the boat the day Shim died, but said he believes it's the same orange Zodiac. He said there is a slow no-wake zone up to 200 feet from the shoreline but that the boat operator often flouts that rule.
"You cannot scrimp on safety with a boat like that," Amona said. "When you're driving back here and the front is up here, there's no way you're going to see what's" down in front of you.
Environmental watchdog Carroll Cox said the state has been derelict in its investigation of Shim's case.
He said DLNR had not impounded the boat by Friday, when he saw it parked at a residence in Kailua.
"The public deserves a better response, a more responsible, respectable investigation," he said. "The DLNR needs to impound that boat to preserve the interest of the family. The boat could be scrubbed and cleaned."
He said DLNR should impound the boat to preserve any evidence in case the family wants to conduct a private investigation.
He also criticized the state for failing to correct a "deadly mixture" of boaters and others in the area. He said the state should create a separate lane for boaters to keep boaters and other ocean users apart.
"It's like leaving a loaded gun on the sidewalk," he said. "It's just wrong to permit such a thing."

by Andrew Walden
An alleged member of Tulsi Gabbard's Hare Krishna cult has been charged for running over and killing a diver in Kailua Bay and injuring another diver with a speedboat.
HNN February 4, 2016 reports:
The state Department of Land and Natural Resources has filed a criminal complaint against the driver of the boat that killed a Kailua diver last month.
Forty-one year-old Sai Hansen of Kailua was cited today for operating a motor vessel without a license. If convicted, he faces up to a year in prison and a $1,000 fine.

Hansen was the driver of the 24-foot zodiac that struck and killed 59-year-old Sri Shim on Jan. 9. His hanai son Trey Albrecht was also hit and suffered severe cuts to his arm.

"There's been numerous complaints about this orange zodiac speeding around the bay, up and down Lanikai and he's been a real hazard to swimmers," said Brian Amona, a longtime friend of the Shim family….

Friends and family of the victim wonder why it took nearly a month for this criminal complaint to be filed.

Hansen will make his initial appearance at Kaneohe District Court on Feb. 16….
Sai Hansen has repeatedly been identified in published reports as an alleged member of the so-called 'Science of Identity' cult controlled by aging red diaper baby Chris Butler. Leading cult members include US Congresswoman Tulsi Gabbard and her father State Senator Mike Gabbard.
The Gabbards' anti-GMO activism serves to drive consumers to spend money at so-called natural stores such as the 'Down to Earth' chain which is allegedly owned and operated by cult members.