Jackets were badges of honor for surf teams and competitors in the 1960's. The Inter-Island Birdwell competition-style jackets were born from this tradition. They're made from the same durable nylon as Birdwell boardshorts. They're double-pinstriped, with the Birdwell label sewn on the back and the Inter-Island logo on the front.
These visualizations of global weather conditions and ocean waves, forecast by supercomputers, are updated every three hours.
Please CLICK HERE to view an amazing webpage.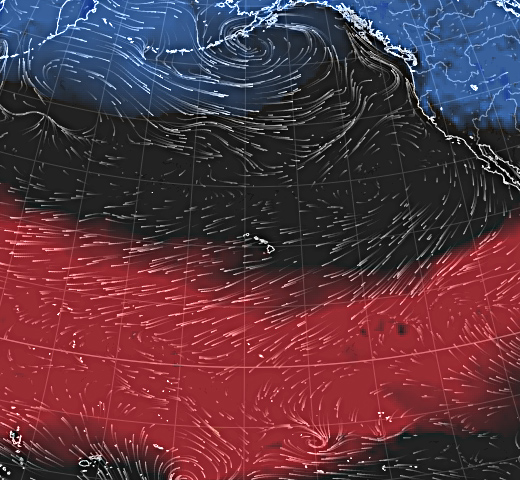 There is a new sexagenarian surf kid at an old new surf shop in town. I want you to meet the new Inter-Island Surf Shop manager and owner Barry Morrison. Barry has tucked himself into the old Classic Surfboards shop at 451 Kapahulu Ave. reviving and revitalizing Inter-Island Surf Shop and surfboards which started in the Territory of Hawaii and has been on going above and underground first as a physical location in Kaka'ako since 1960. Barry speaks lovingly of the folks who have been involved in the company over the years and traces Inter-Island's history back to the wood craftsmanship of Abel Gomes who assembled the early hollow board ideas of Tom Blake. (taken from a Chris Aherns article about Paul Strauch in a chapter of LEGENDARY SURFERS) I stopped by the new Kapahulu Avenue location, turned on my bright lights, and put Barry under the spots for an interview which I am sharing here with you. I want to thank Bill Brooks for the use of his original instrumental music in the background of this video, and I want to thank Barry Morrison for the use of some of the still photos found throughout the video.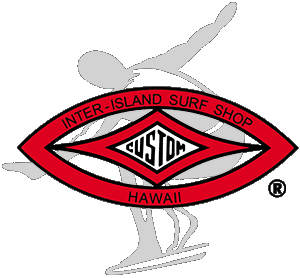 EHUKAI reported 3-4 ft at 2:30 PM HST.

Wind is VRB 05-10.

MAKAHA reported 2-3 ft at 2:30 PM HST.

Wind is VRB 05-10.

MAKAPUU reported 1-2 ft at 2:30 PM HST.

Wind is NE 05-10.

SANDY BEACH reported 1-2 ft at 2:30 PM HST.

Wind is SE 10-15. SHORE BREAK

WAIKIKI reported 0-1 ft at 2:30 PM HST.

Wind is VRB 05. CANOES

SUNSET reported 3-4+ ft at 8:00 AM HST.

Swell direction from the NW. Swell period is 8 seconds. Wind is VRB 05.

DIAMOND HEAD reported 2-3 ft at 7:00 AM HST.

Swell direction from the SSE. Swell period is 10 seconds. Wind is SSW 05-10.

Surf Forecast for Oahu

NOTE: Please check with local authorities regarding beach closures. Surf along north facing shores will be 3 to 5 feet today, lowering to 1 to 3 feet Friday. Surf along east facing shores will be 2 to 4 feet through Friday. Surf along south facing shores will be 2 to 4 feet today, rising to […]

Oahu Surf Hazards

No high surf advisory or warnings.